Polar Graph Paper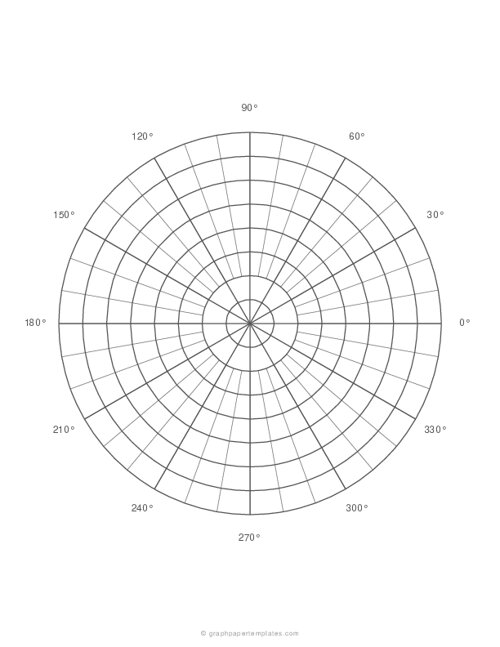 Paper Size: Letter
Format: PDF
Size: 8.5" x 11" - ( 216 mm x 279 mm )
Layout: Portrait / Vertical
Color: Gray
Polar graph paper is a type of graph paper that is used to draw graphs and diagrams in polar coordinate system. This type of graph paper has radial lines and concentric circles instead of the usual horizontal and vertical lines.
If you need to create a diagram or graph with radial symmetry, polar graph paper is the perfect tool for the job. You can print out your own polar graph paper using this free printable template.
How to Use Polar Graph Paper?
Polar graph paper can be used for a variety of purposes, including drawing graphs of mathematical functions, creating scientific diagrams, and plotting points in polar coordinate system.
The following steps will show you how to use polar graph paper to draw a graph of a mathematical function.
Draw the axis of the polar coordinate system on the graph paper. Label the radial axis "r" and the angular axis "θ".
Draw the function you want to graph on the graph paper.
Plot points on the graph by using the radius and angle measurements specified in the function.
Connect the points to create the graph of the function.
You may also like:
Download printable handwriting paper for preschool and kindergarten students. Teachers and educators can use this handwriting paper in their classroom to help learn students how to write when they are just starting out.

A daily routine checklist can help! This free printable template will help you stay on track and accomplish your goals. Simply download, print on A5 paper, and start getting things done.

Download free printable 1/2" inch graph paper with blue grid lines in portrait orientation. This type of graph paper has 1/2 inch squares, which makes it perfect for bullet journals, doodles and sketching.