Isometric Graph Paper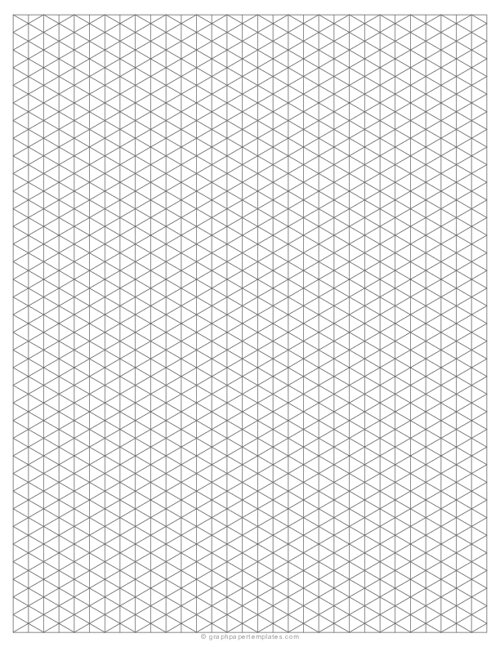 Paper Size: Letter
Format: PDF
Size: 8.5" x 11" - ( 216 mm x 279 mm )
Layout: Portrait / Vertical
Color: Gray
Isometric graph paper is a sort of graph paper with each line forming a 60-degree angle. It creates a 3D effect and can be used for isometric illustrations or designs.
Where is Isometric Graph Paper used?
Isometric graph paper is commonly used in engineering, architecture, and drafting applications to create both two-dimensional and three-dimensional designs.
This graph paper can be a helpful tool for a variety of projects. Whether you're an architect, engineer, drafter, artist, or student, this graph paper can help create two-dimensional and three-dimensional designs.
Here are some common examples of how different professionals use Isometric Graph paper:
Architects use this graph paper to sketch out floor plans and elevations.
Engineers use it to plan circuitry and mechanical drawings.
Drafting technicians use it for various projects, including mechanical drawings and architectural designs.
Artists can also use isometric graph paper for isometric illustrations or sketches. It can help plan quilts, cross-stitch patterns, or other craft projects.
Students often use it for math projects that require three-dimensional images.
If you need isometric graph paper for any of these applications, you can download and print our free PDF templates. Simply select the template you need and print it out on regular printer paper. Then, you can start drawing your 3D designs.
You may also like:
Brick Stitch with Cylinder Beads

Download free printable brick stitch with cylinder beads template in portrait orientation. This type of paper template is perfect for giving a textured and three-dimensional look to the stitching piece.

Download dot grid paper with grey dots in portrait orientation in Letter Size, A4, and A5 Size. This type of dot paper has dots every 1/2 or 1/4 inch, which makes it perfect for bullet journals, doodles, and sketching.

Printable Graph Paper with axis is perfect for people working with math or physics problems. The gridlines and the axis on the paper can provide a visual aid when trying to line up numbers and equations.