1/2" inch Octagon Graph Paper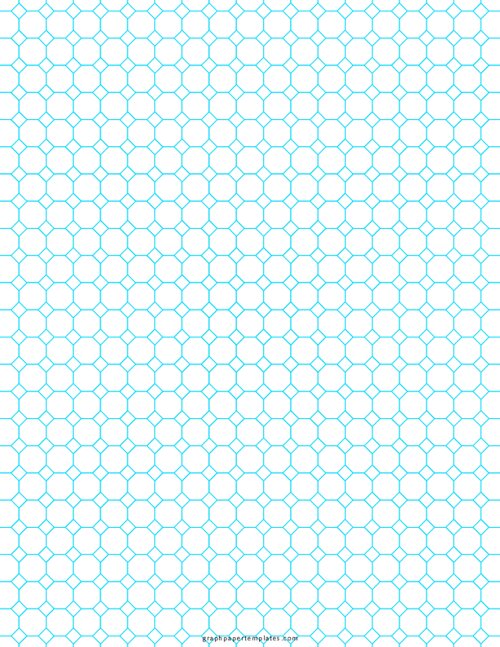 Paper Size: Letter
Format: PDF
Size: 8.5" x 11" - ( 216 mm x 279 mm )
Layout: Portrait / Vertical
Color: Blue
Octagon graph paper with half inch spacing is commonly used for various purposes, including graphing equations, plotting polygons, and creating tessellations.
Printable 1/2" Inch Octagon Graph Paper
This type of graph paper can be particularly useful for visualizing complex mathematical concepts. Octagon graph paper is also often used by architects and designers to create three-dimensional renderings of buildings and other structures.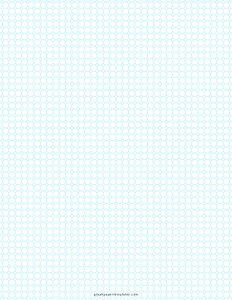 Quarter Inch (1/4")
Quarter Inch Octagon graph paper can be useful for various purposes, from creating tessellations to drawing three-dimensional objects.
Print Download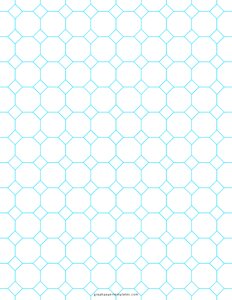 One Inch
Octagon Graph Paper Printable PDF with 1" inch spacing. Perfect for various mathematical and engineering applications. It is most commonly used for enlargement designs in mathematical and engineering projects.
Print Download
In addition, octagon graph paper can be used for various crafts projects, such as making origami or quilting. Whether you are a student, a professional, or a hobbyist, this versatile tool can be a valuable asset in your design arsenal.
Download and print octagon graph paper printable PDF.
You may also like:
Download dot grid paper with grey dots in portrait orientation in Letter Size, A4, and A5 Size. This type of dot paper has dots every 1/2 or 1/4 inch, which makes it perfect for bullet journals, doodles, and sketching.

Polar graph paper is a type of graph paper that is used to draw graphs and diagrams in polar coordinate system. This type of graph paper has radial lines and concentric circles instead of the usual horizontal and vertical lines.

This free printable daily routine checklist will help you stay on top of your daily routine. It will help you plan your day and ensure everything gets done on time. The main sections include Morning, Afternoon, and Evening tasks.