Semi-Log Graph Paper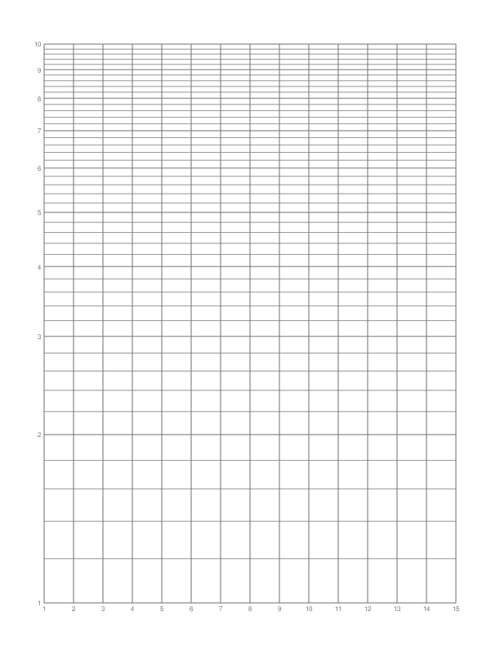 Paper Size: Letter
Format: PDF
Size: 8.5" x 11" - ( 216 mm x 279 mm )
Layout: Portrait / Vertical
Color: Gray
Semi-log graph paper, also called semi-logarithmic or log linear graph paper, is a graphing paper with linear scales along the x-axis (horizontal axis) and logarithmic scales along the y-axis (vertical axis).
If you are looking for logarithmic scales on both x-axis and y-axis, make sure to download log-log graph paper.
It is used for plotting data that covers a large range of values, such as decibels or chemical concentrations. The linear scale is used for the majority of the graph, while the logarithmic scale covers the lower part of the y-axis.
This type of graph paper is useful because it allows you to compare data that covers a wide range of values. For example, if you were plotting the decibel levels of different sounds, you could easily see how a whisper is much quieter than a loud noise.
Where is semi-log graph paper used?
Semi-log graph paper is used in many different fields, from engineering to chemistry to biology.
This type of graph paper is particularly useful for graphing linear scales on an x-axis and a logarithmic scale on the y-axis.
Data can be represented more accurately as well as comparisons between data sets can be done perfectly.
Semi-log graph paper can also be used for plotting exponential functions and logarithmic functions.
In addition, this type of graph paper is frequently used in statistics and data analysis.
As a result, semi-log graph paper is a versatile tool that can be used in a variety of different fields.
You may also like:
Download and print this 2-page foldable note paper template that is designed for taking notes on two pages. Write down your thoughts and ideas, make a to-do list, take notes in class or use it as regular notebook paper.

Download free printable 1/8" inch graph paper with blue grid lines in portrait orientation. It comes with 1/8 inch squares so it is perfect for students to use for their math, graphing, and designing projects.

Printable Graph Paper with axis is perfect for people working with math or physics problems. The gridlines and the axis on the paper can provide a visual aid when trying to line up numbers and equations.