10 Squares Per Inch Graph Paper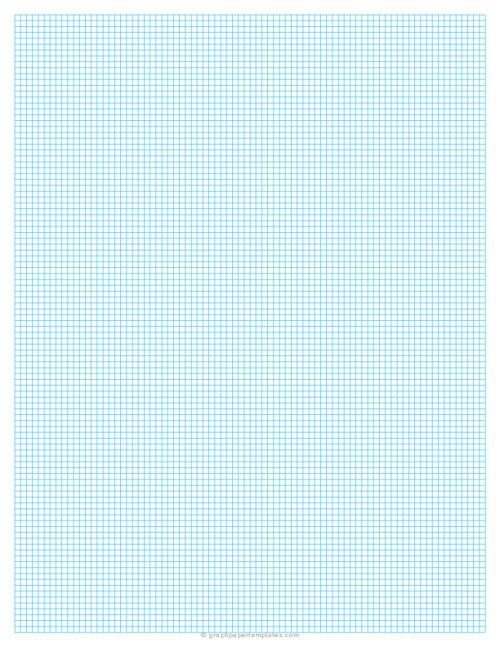 Paper Size: Letter
Format: PDF
Size: 8.5" x 11" - ( 216 mm x 279 mm )
Layout: Portrait / Vertical
Color: Blue
10 squares per inch graph paper PDF printable has 10 squares per inch. It is perfect for graphing and drawing small diagrams.
This versatile 1/10 inch graph paper can be used for a variety of purposes, from sketching and drawing to math and science.
Looking for engineering graph paper in 1/10 inch? Check out:1/10" Inch Engineering Graph Paper
Since this is a standard letter size paper, it's easy to print out at home or at the office.
Download and print 10 squares per inch graph paper
You can easily download and print this graph paper at home. Use a program like Adobe Reader to open and then print.
10 Squares Per Inch Graph Paper Printable PDF can be used for a variety of purposes. You can use it for school projects, creating charts and diagrams, or taking notes.
It can also be used by artists and designers who want to create precise drawings or plans.
You may also like:
Free printable 1 cm graph paper (10mm spacing) with grey grid lines in portrait orientation. This type of graph paper has 1 cm squares, which makes it perfect for plotting out small-scale drawings and diagrams.

Download the free printable blank staff paper. It is perfect for musicians, students, and music teachers. This blank staff paper comes in handy when you are practicing your music notation or trying to compose a new song.

Isometric dot paper is a type of graph paper that uses dots instead of lines to create an isometric grid. This grid is used for drawing three-dimensional objects, such as cubes, pyramids, and spheres.