2 Page Foldable Note Paper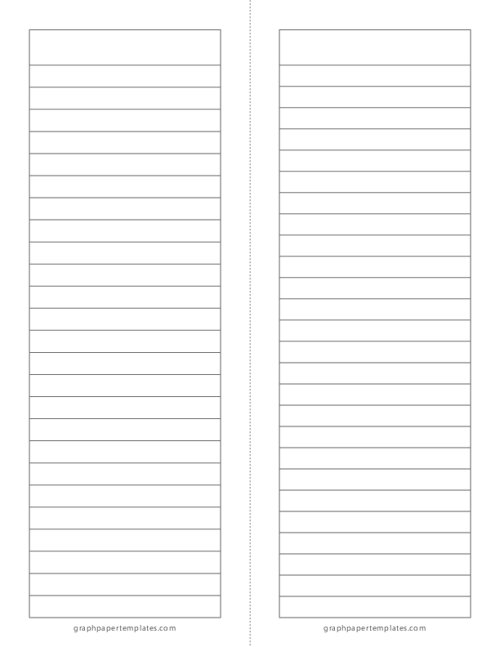 Paper Size: Letter
Format: PDF
Size: 8.5" x 11" - ( 216 mm x 279 mm )
Layout: Portrait / Vertical
Color: Gray
Download and print this 2-page foldable note paper template that is designed for taking notes on two pages. Write down your thoughts and ideas, make a to-do list, take notes in class or use it as regular notebook paper.
The foldable template makes it easy to carry with you wherever you go! This paper is designed to be folded in half, giving you two pages of note space. Take it with you when you are on the go. It makes organization a breeze.
Benefits of using 2 Page Foldable Note Paper
There are many benefits to using printable 2-page foldable note paper templates. They help to:
Save time. If you need to take notes quickly, you can print a template and start writing.
Save money. Printable templates are often much cheaper than buying pre-printed notepads.
Organize your thoughts. When you use a template, you can ensure that your notes are arranged logically.
Improve your handwriting. Using a template can help you achieve neater, more legible results if you struggle with messy handwriting.
Overall, using printable 2-page foldable note paper templates offers many advantages that can be extremely helpful for professionals, students, and anyone who needs to take notes frequently.
You may also like:
Brick Stitch with Cylinder Beads

Download free printable brick stitch with cylinder beads template in portrait orientation. This type of paper template is perfect for giving a textured and three-dimensional look to the stitching piece.

Wide Ruled Lined Paper, is a lined paper with blue horizontal lines with 8.7mm spacing and a vertical red line with a left and top margin of 32mm. Wide spacing between horizontal lines makes it easy for kids to practice writing.

A daily routine checklist can help! This free printable template will help you stay on track and accomplish your goals. Simply download, print on A5 paper, and start getting things done.