2 Page Foldable Note Paper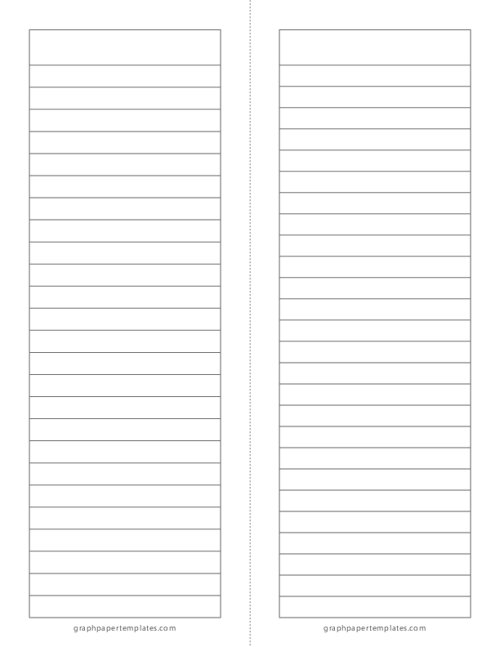 Paper Size: Letter
Format: PDF
Size: 8.5" x 11" - ( 216 mm x 279 mm )
Layout: Portrait / Vertical
Color: Gray
Download and print this 2-page foldable note paper template that is designed for taking notes on two pages. Write down your thoughts and ideas, make a to-do list, take notes in class or use it as regular notebook paper.
The foldable template makes it easy to carry with you wherever you go! This paper is designed to be folded in half, giving you two pages of note space. Take it with you when you are on the go. It makes organization a breeze.
Benefits of using 2 Page Foldable Note Paper
There are many benefits to using printable 2-page foldable note paper templates. They help to:
Save time. If you need to take notes quickly, you can print a template and start writing.
Save money. Printable templates are often much cheaper than buying pre-printed notepads.
Organize your thoughts. When you use a template, you can ensure that your notes are arranged logically.
Improve your handwriting. Using a template can help you achieve neater, more legible results if you struggle with messy handwriting.
Overall, using printable 2-page foldable note paper templates offers many advantages that can be extremely helpful for professionals, students, and anyone who needs to take notes frequently.
You may also like:
Download hexagon graph paper in 1/2" inch and 1/4" inch hexagons. This kind of graph paper comes with hexagons instead of regular square grids making it perfect to use for math and science projects.

Blank Label Templates (10 per Page)

These blank label templates are perfect for printing addresses, product information, or any other type of information onto labels. Just download the template of your choice, fill in the information you need, and print!

Isometric dot paper is a type of graph paper that uses dots instead of lines to create an isometric grid. This grid is used for drawing three-dimensional objects, such as cubes, pyramids, and spheres.