Blank Staff Paper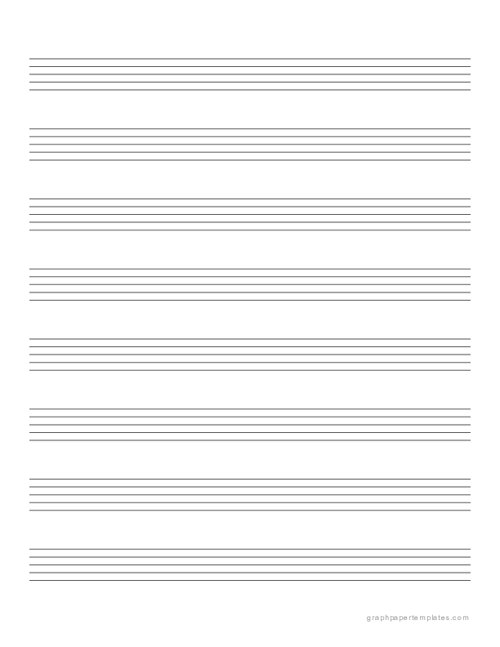 Paper Size: Letter
Format: PDF
Size: 8.5" x 11" - ( 216 mm x 279 mm )
Layout: Portrait / Vertical
Color: Gray
Music is a language that all can enjoy, regardless of age or experience level. When you are beginning as a music student, you need to learn to read and write music and become familiar with the musical staff.
This blank staff paper comes in handy when you are practicing your music notation or trying to compose a new song. Download and print out as many sheets as you need and you are ready to go!
Printable blank staff music paper
The staff paper comes with a set of five lines and four spaces representing the pitch of notes.
Notes are written on the staff using symbols called note heads, and the space between notes is called a measure.
The clef is a symbol placed at the beginning of the staff, and it indicates the range of pitches that will be used in the piece of music.
The most common clefs are the treble clef and the bass clef.
Download and print your copy of blank music staff paper.
You may also like:
A4 Isometric graph paper is a graph paper with each line forming a 60-degree angle. It creates a 3D effect and can be used for isometric illustrations or designs. Use this paper to improve precision and organization. Download and print today!

3D Isometric Graph Paper (Blue)

3D Isometric Graph Paper, with lines at 60 degrees and blue in color. It is perfect for creating three-dimensional images.

Semi-log graph paper, also called semi-logarithmic or log linear graph paper, is a graphing paper with linear scales along the x-axis (horizontal axis) and logarithmic scales along the y-axis (vertical axis).