College Ruled Lined Paper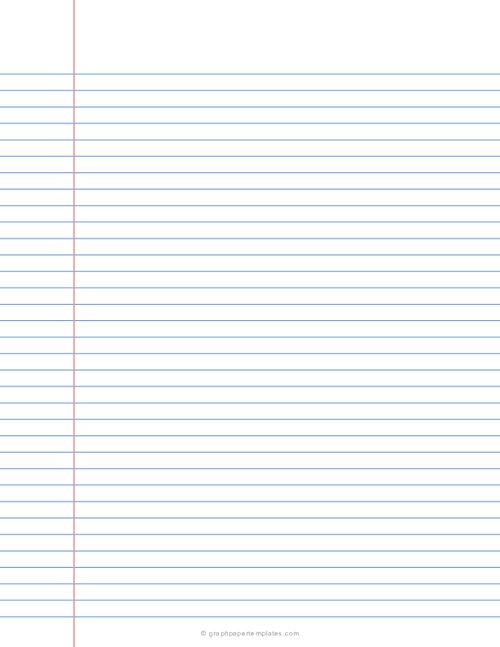 Paper Size: Letter
Format: PDF
Size: 8.5" x 11" - ( 216 mm x 279 mm )
Layout: Portrait / Vertical
Color: Blue
College Ruled Lined Paper, also called Medium Ruled Lined Paper is a lined paper with blue horizontal lines with 7.1mm spacing and a vertical red line with a left and top margin of 32mm.
There is less spacing between horizontal lines as compared to Wide Ruled Lined Paper.
Printable College Ruled Lined Paper
College ruled lined paper works great for notebooks, essays, or just taking quick notes. The pages are designed with a light blue ruling that makes them perfect for any type of note-taking.
These are usually used for medium sized handwriting because of the small space between the horizontal lines. By using horizontal blue lines as a guide to writing, you can take neat notes. The red vertical line helps with writing beautiful notes underneath the next line.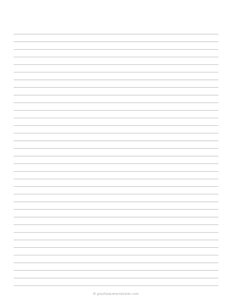 College Ruled Lined Paper (No Vertical Line)
College Ruled Lined Paper (also called Medium Ruled Lined Paper)
Grey horizontal lines
7.1mm spacing
No vertical red line
Margin from the top 32mm
Print Download
College Ruled Lined Notebook
If you are a college student and have to take lots of notes, you may have to purchase a new notebook every time you run out of pages. How about you make good use of these college ruled line paper and make your own notebook?
Download these lined papers and print them back to back. Put them together in a binder by punching the holes. You can even grab a copy or two of these cute student binder covers. Make it a fancy one by adding these dot grid papers or graph paper!
You may also like:
Free printable Coordinate graph paper can be a handy tool for a variety of tasks, from plotting the trajectory of a projectile to helping students visualize the properties of geometric shapes.

A to do list can help keep you on track and ensure you don't forget anything important. This is the template you need if you struggle with staying organized and keeping track of your tasks.

10 Squares Per Inch Graph Paper

10 squares per inch graph paper PDF printable has 10 squares per inch. It is perfect for graphing and drawing small diagrams. It can be used for a variety of purposes, from sketching and drawing to math and science.