Wide Ruled Lined Paper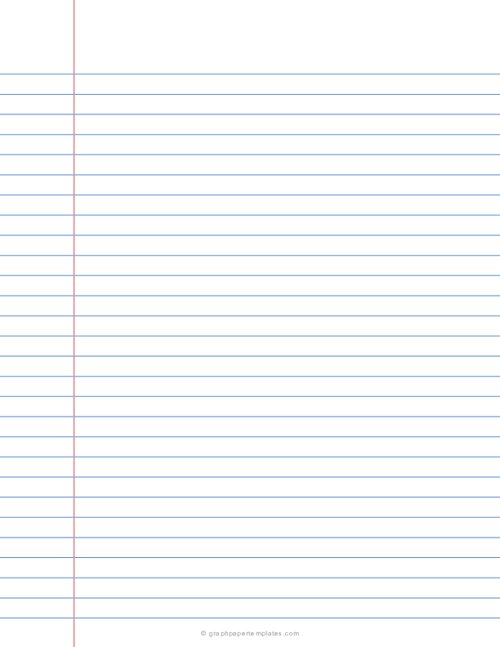 Paper Size: Letter
Format: PDF
Size: 8.5" x 11" - ( 216 mm x 279 mm )
Layout: Portrait / Vertical
Color: Blue
Wide Ruled Lined Paper, is a lined paper with blue horizontal lines with 8.7mm spacing and a vertical red line with a left and top margin of 32mm. Wide spacing between horizontal lines makes it easy for kids to practice writing.
Printable Wide Ruled Lined Paper
Wide ruled lined paper is widely used by elementary students when they are just starting to learn to handwrite. Wider spaces between the blue horizontal lines provide plenty of space for them to write, draw or sketch.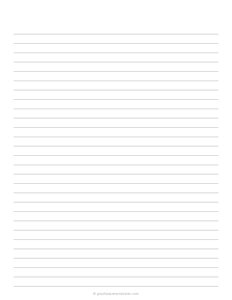 Wide Ruled Lined Paper (No Vertical Line)
Wide Ruled Lined Paper
Grey horizontal lines
8.7mm spacing
No vertical line
Left and top margin of 32mm
Print Download
Wide Ruled Lined Notebook
To manage these lined papers, you can create a Wide Ruled Lined Notebook for your child. Download these pages and print them back to back. Put these together in a file folder that they can use to practice handwriting or drawing.
You may also like:
College Ruled Lined Paper, also called Medium Ruled Lined Paper is perfect for students to take their notes, write essays, or story writing. Simply download, print, and start writing beautiful notes.

Download Octagon graph paper with half inch spacing. It is commonly used for various purposes, including graphing equations, plotting polygons, and creating tessellations.

10 Squares Per Inch Graph Paper

10 squares per inch graph paper PDF printable has 10 squares per inch. It is perfect for graphing and drawing small diagrams. It can be used for a variety of purposes, from sketching and drawing to math and science.