Coordinate Graph Paper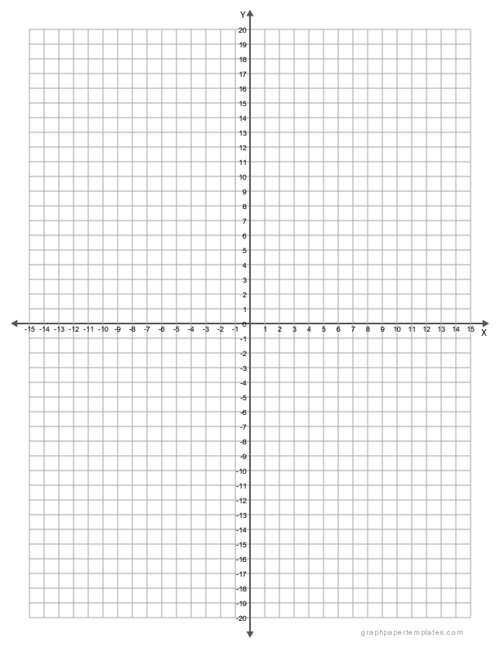 Paper Size: Letter
Format: PDF
Size: 8.5" x 11" - ( 216 mm x 279 mm )
Layout: Portrait / Vertical
Color: Gray
Coordinate graph paper can be a handy tool for a variety of tasks, from plotting the trajectory of a projectile to helping students visualize the properties of geometric shapes.
Printable Coordinate Graph Paper PDF
The paper is divided into a grid of small squares, with each square representing a unit of measurement. This makes it easy to plot points and track measurements, which can be helpful when working with complex data sets.
Coordinate graph paper can also be used for educational purposes, such as teaching students the basics of graphing or helping them visualize the relationships between different variables.
In addition, the paper can be used for art projects or as a template for creating patterns. Whether you're a student, teacher, or professional, coordinate graph paper can be a useful tool for a variety of tasks.
Features of Coordinate Graph Paper Printable PDF:
Graph paper with 1/4 inch line spacing;
Comes with X-axis and Y-axis;
X-axis and Y-axis numbered from -15 to 15 and -20 to 20 respectively;
Download and print.
You may also like:
Engineering graph paper is a type of graph paper with horizontal and vertical lines at equal distance with major lines appearing at a specified distance of 1/2 inch, 1/4th, 1/5th, 1/10th, or every 5 or 10 lines.

Boost your productivity with this free printable weekly to do list template. This is a great way to organize and make your days more productive. There is a space for each day of the week and a section for notes/reflections.

Download free printable 1/8" inch graph paper with blue grid lines in portrait orientation. It comes with 1/8 inch squares so it is perfect for students to use for their math, graphing, and designing projects.