Coordinate Graph Paper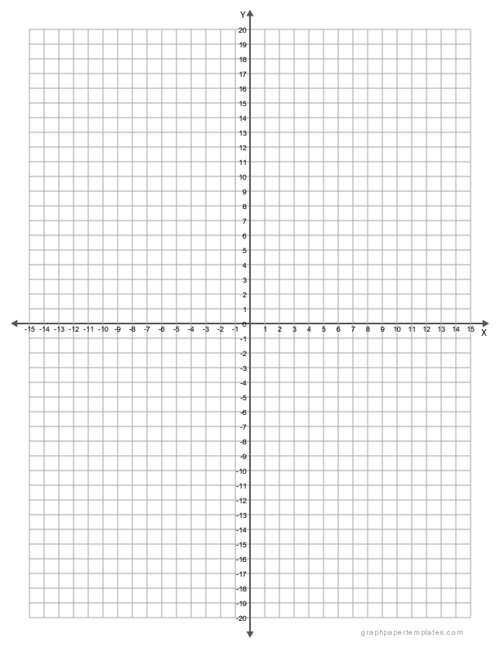 Paper Size: Letter
Format: PDF
Size: 8.5" x 11" - ( 216 mm x 279 mm )
Layout: Portrait / Vertical
Color: Gray
Coordinate graph paper can be a handy tool for a variety of tasks, from plotting the trajectory of a projectile to helping students visualize the properties of geometric shapes.
Printable Coordinate Graph Paper PDF
The paper is divided into a grid of small squares, with each square representing a unit of measurement. This makes it easy to plot points and track measurements, which can be helpful when working with complex data sets.
Coordinate graph paper can also be used for educational purposes, such as teaching students the basics of graphing or helping them visualize the relationships between different variables.
In addition, the paper can be used for art projects or as a template for creating patterns. Whether you're a student, teacher, or professional, coordinate graph paper can be a useful tool for a variety of tasks.
Features of Coordinate Graph Paper Printable PDF:
Graph paper with 1/4 inch line spacing;
Comes with X-axis and Y-axis;
X-axis and Y-axis numbered from -15 to 15 and -20 to 20 respectively;
Download and print.
You may also like:
A daily routine checklist can help! This free printable template will help you stay on track and accomplish your goals. Simply download, print on A5 paper, and start getting things done.

Isometric dot paper is a type of graph paper that uses dots instead of lines to create an isometric grid. This grid is used for drawing three-dimensional objects, such as cubes, pyramids, and spheres.

Isometric graph paper is a sort of graph paper with each line forming a 60-degree angle. It creates a 3D effect and can be used for isometric illustrations or designs. Download and print today!