Three Drop Brick Stitch Graph Paper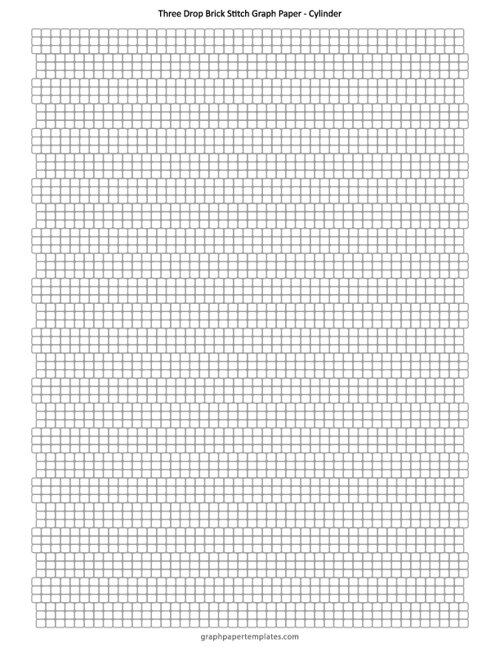 Paper Size: Letter
Format: PDF
Size: 8.5" x 11" - ( 216 mm x 279 mm )
Layout: Portrait / Vertical
Color: Gray
Bead weaving has a charm of its own, and the three drop brick stitch is one of the most versatile stitches in this craft. It's a stitch that resembles the pattern of a brick wall, where three rows of beads are stacked horizontally.
It's elegant, sophisticated, and surprisingly simple to execute once you get the hang of it. You'll enjoy discovering this stitch whether a beginner or a seasoned beader.
What is 3 Drop Brick Stitch?
The 3 drop brick stitch is a bead weaving stitch that creates an interlocked pattern that looks like a brick wall. The stitch is made by stringing three beads together at a time and weaving them through the previous rows of beads.
As the name suggests, the stitch involves dropping three rows of beads at once instead of one. This stitch can create beautiful patterns, textures, and designs for bracelets, necklaces, and earrings.
How to use a 3 drop brick stitch graph paper
To make it easy for you, a 3 drop brick stitch graph paper can be used to create a necklace, bracelet, or whatever you have in mind. A graph paper is a pattern sheet with traced cells to help you plot your beadwork patterns accurately. The paper has horizontal lines; each cell represents a specific unit within the pattern.
The 3 drop brick stitch graph paper comes in handy because it allows you to visualize the design of your pattern and how the beads will fit in it. You can easily download and print a 3 drop brick stitch graph paper. You can also use other weaving techniques to enhance the design, such as peyote stitch, herringbone stitch, or ladder stitch.
You may also like:
Organize your day and get more done with this printable to-do list template. This helpful tool can help you break down your tasks into manageable steps and keep track of what you need to do.

The Cornell Notes Template is useful for taking notes on any type of lecture material, and it is especially effective for classes that require a lot of memorization.

Download printable handwriting paper for preschool and kindergarten students. Teachers and educators can use this handwriting paper in their classroom to help learn students how to write when they are just starting out.